1: Personalise & Subscribe

Tell us all about your bookworm, their age, interests, and hobbies. Add your message and subscribe. Our expert curator will select the perfect book chosen just for them!

2: The Package Arrives

Excitement is in the air! The first package arrives in the mail including a beautifully gift-wrapped book, their sign up gift, a Bookworm Certificate, extra goodies & your personal message.

3: Celebrate, Cozy Up & Read

Now it's time to delve into and savour the enchanting world of books! Next month, the recipient will receive another book, hand-picked by our experts, and this will continue every month!
Let customers speak for us
Our Premium Children's Book Subscriptions (Choose an age)
You Plant A Tree With Every Order
Planted with the Eden Reforestation Projects who work with local communities to restore landscapes on a massive scale, creating jobs, protecting ecosystems, and helping mitigate climate change.
Sprout Total Count Banner Will Appear Here After Save
A Special Book Delivery Every Month
Wee Bookworms is a family-run Online Children's Bookshop & Premium Subscription platform with a big heart. Our book club book subscriptions are not only the best gift for real bookworms but also for reluctant readers!
Our Online Children's Bookshop
Regular price
From £44.99
Regular price
£59.97
Sale price
From £44.99
Unit price
per
The Bookworm Experience
Tailoring Your Book Subscription and Place Your Order

Eliminate the hassle of searching for the ideal books; entrust us with the task. Are you in pursuit of a customized book subscription? Does your young one harbour a particular fascination for space, monsters, or unicorns? No problem! Just provide us with some information about your child, including their age, interests, and hobbies. We will meticulously select the perfect book for your little one. Yes, you heard right! We don't settle for inferior books here. You can also include a personal message! Our team of dedicated bookworms will ensure that everything is beautifully gift-wrapped and we will also include an extra gift with all initial deliveries, striving to leave a lasting impression! This is when we hand the book over to the...book fairy...

The Arrival of Your Personalized Book Subscription

The eagerly awaited day has finally arrived, anticipation builds. The book fairy makes her entrance, typically assuming the guise of a postal worker. A knock on the door, a package handed over, and your loved one realizes...wait? Something awaits them! Then let the excitement ensue as they unwrap a beautifully presented parcel containing a marvellous book and an assortment of literary treasures.

Embrace the Anticipation, Enjoy a New Book

Once your wee one receives the book subscription box, complete with a book, complimentary gift, a personalized message from you, a Wee Bookworm Trainee Certificate, and other delightful surprises—all lovingly wrapped—let the initial excitement wane. Afterward, settle in, knowing that both of you can relish the perfectly curated book, meticulously chosen by our child development expert, Madeleine. And when you reach the final page, don't be disheartened...another will be dispatched every month to the recipient, enabling you to make cherished memories that will endure a lifetime.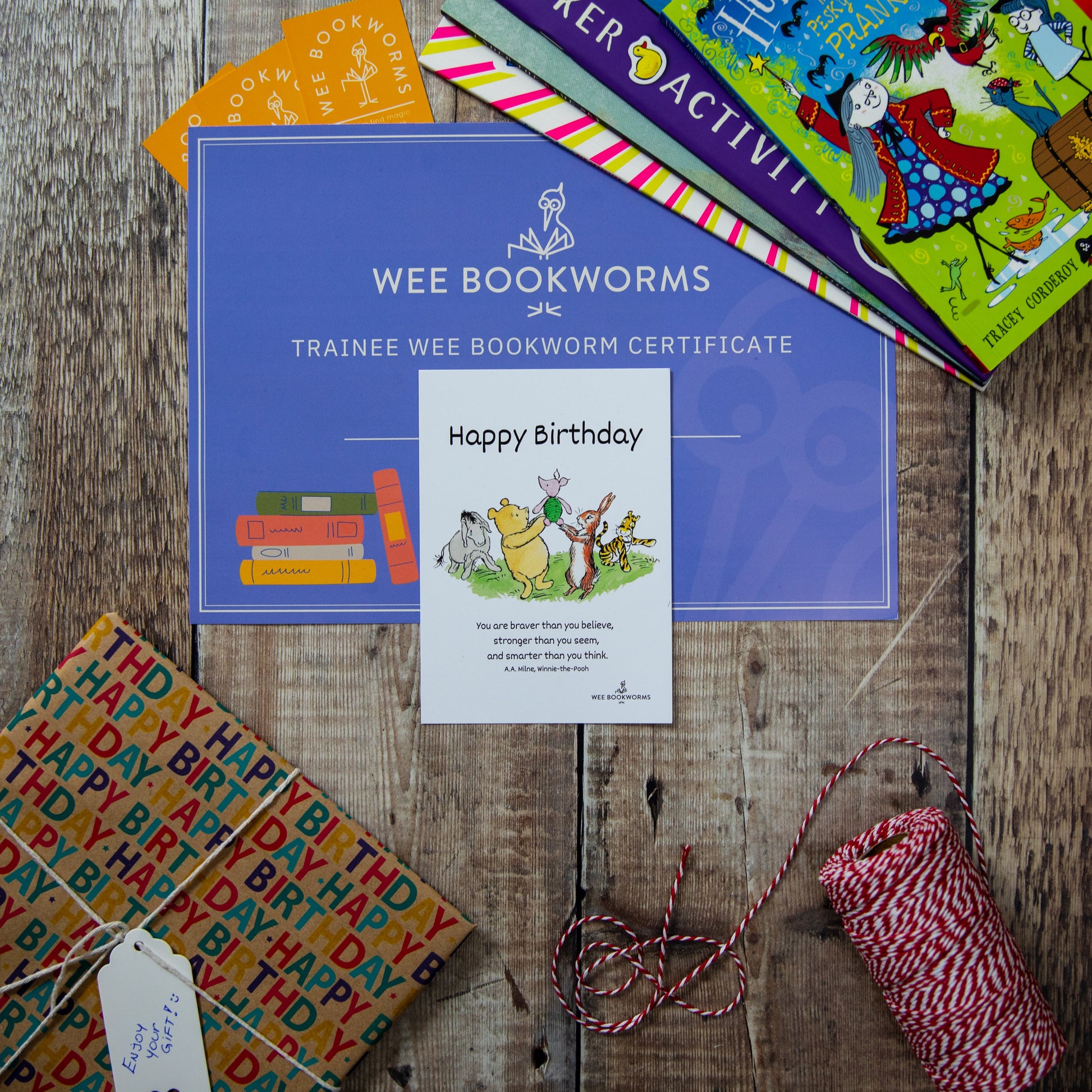 Pre-Paid Bespoke Birthday Book Subscription (all ages)
Regular price
£59.97
Sale price
£44.99
Unit price
per
Sale
Sold out
View full details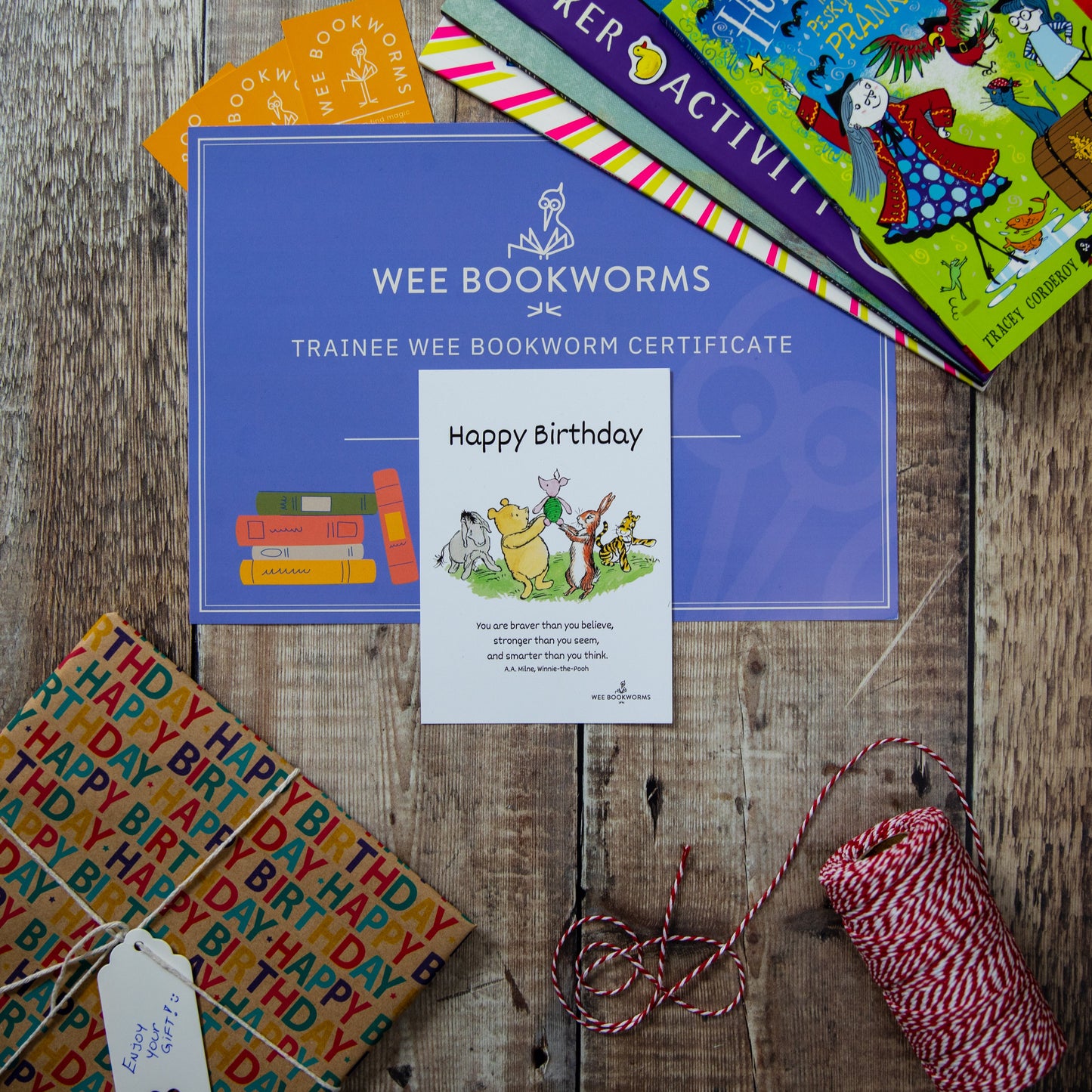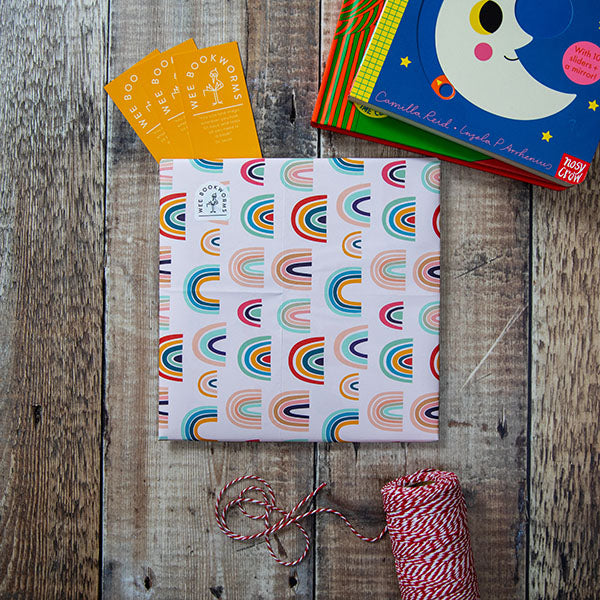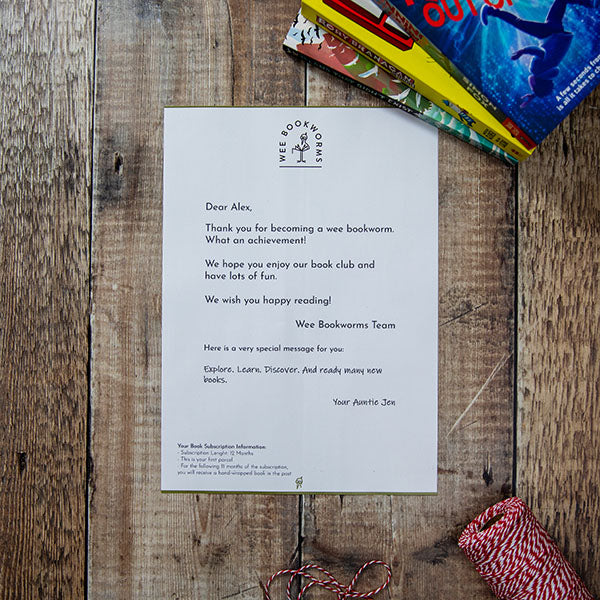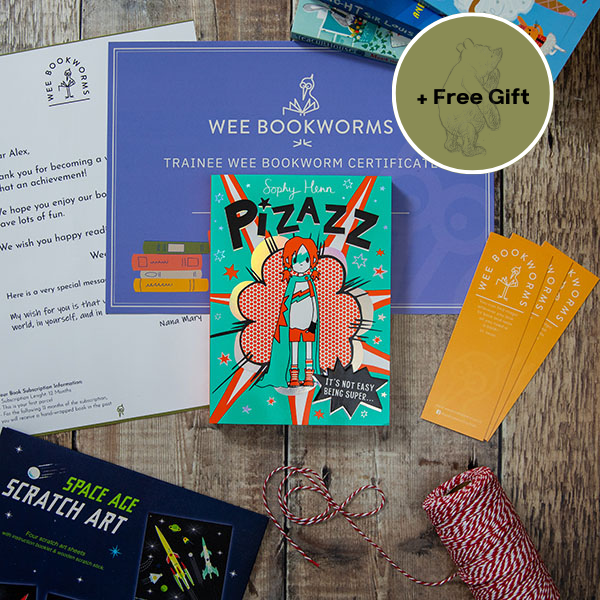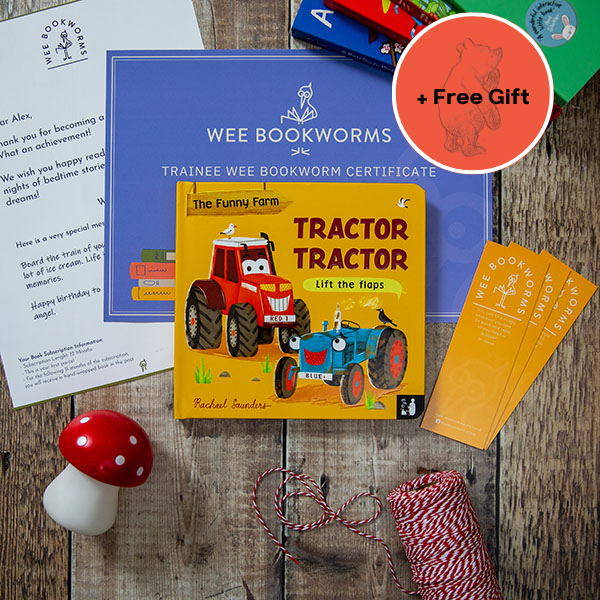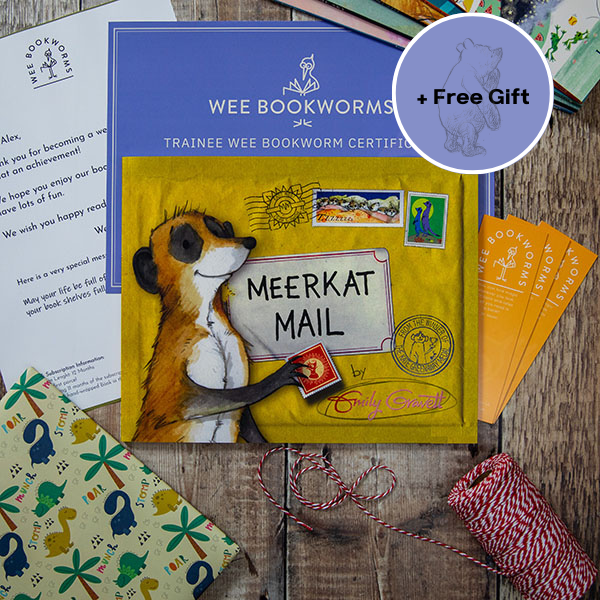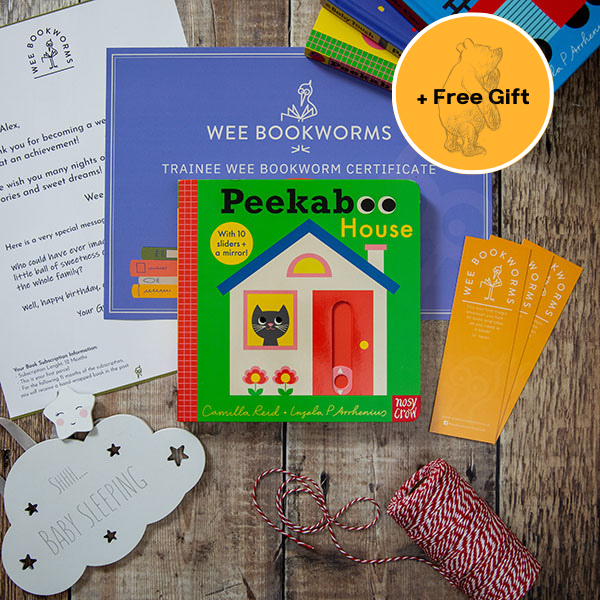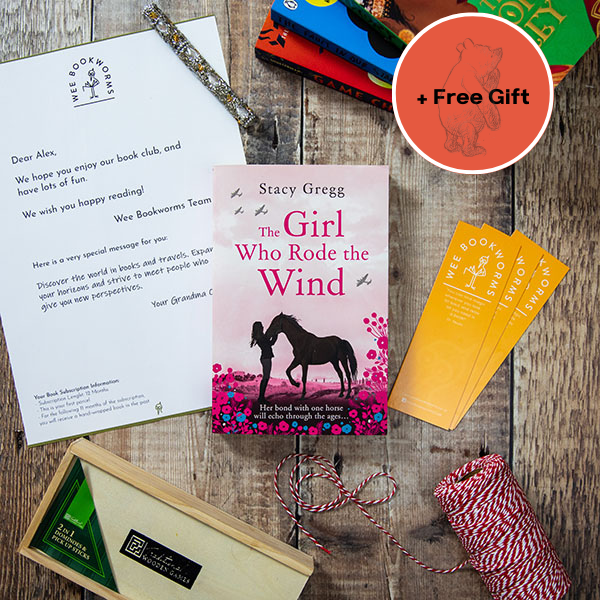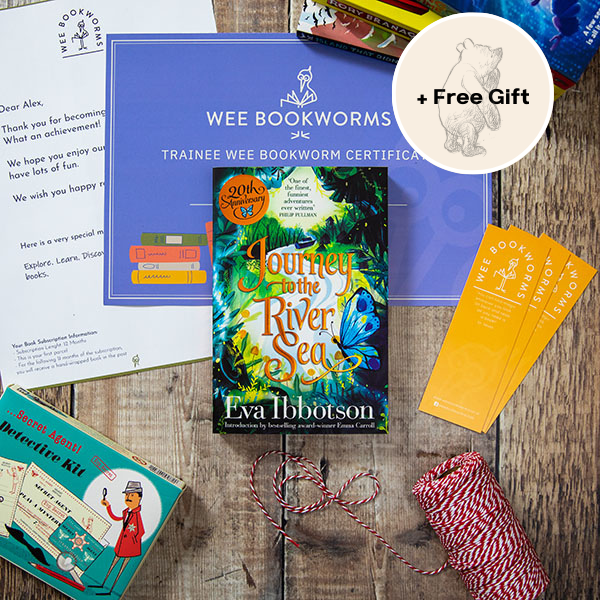 Loved By Bookworms Parents
Emily S. ⭐⭐⭐⭐⭐

"I can't say enough about this children's book subscription! As a busy parent, I love that they take the time to handpick books tailored to my child's age and interests. It's like getting a surprise gift every month. My little one eagerly awaits the arrival of their book, and I'm thrilled to see them develop a love for reading. The Wee Bookworm team truly cares about nurturing young minds through the power of stories. Highly recommended!"

David R. ⭐⭐⭐⭐⭐

"What a fantastic service! I've subscribed for my daughter for six months now, and I'm blown away by the quality of the books they choose. It's evident that they put a lot of thought into each selection. The personalized touch, with the custom messages and the initial subscription box, made my daughter feel incredibly special. This subscription has not only ignited her passion for reading but also our bonding moments. Thank you, Wee Bookworm, for enhancing our family time!"

Sarah M. ⭐⭐⭐⭐⭐

"Wee Bookworm's subscription is a game-changer for parents who want their kids to love reading. The convenience of having age-appropriate and thoughtfully curated books delivered to our doorstep is priceless. My son's face lights up when he opens each package, and we've discovered some incredible books we might never have come across otherwise. It's more than a subscription; it's a journey through the world of storytelling. I'm so grateful for this service, and I'm sure other parents will be too."